The performance you expect – and so much more
With Alfa Laval Compabloc+, the efficient, cost-effective and reliable performance of the Compabloc family is now available for a wider range of demanding duties. The unique design, developed with the feedback and needs of our customers in mind, enables safe operation at pressure up to 60 bar. It's the latest example of how we work closely with you to continuously find new ways of improving process sustainability.
Talk to an industry expert
We will be happy to discuss the benefits a Compabloc+ can bring you and show how we can help improve your operation.
When the pressure is on – choose a champion
Superior sustainability in a broad scope of demanding heavy process duties.
Ultimate reliability thanks to the market's only design with a fully confined, graphite gasket.
A solution to bottlenecks, with increased heat recovery potential under high pressure conditions.
Optimized for minimum fouling with fully cleanable design to retain the original thermal performance.
Simple, cost-effective installation with the same compact footprint as equivalent Compabloc models.
Alfa Laval Compabloc has long been the market's undisputed champion when it comes to delivering sustainable heat transfer performance. Compabloc+ takes all the proven advantages of the Compabloc design and combines them with all new innovations to support duties with even higher design pressures. The secret is Alfa Laval's revolutionary sealing concept: +Seal. Unlike traditional flat gasket designs, +Seal introduces the first fully confined graphite gasket in a bloc-type heat exchanger. This prevents the risk of media leaks at pressures as high as 60 bar, while simultaneously simplifying maintenance by protecting against overtightening as well as creeping.

+Seal
Confident, long-term performance under pressure
Designed with a revolutionary new sealing concept, Compabloc+ includes a fully confined graphite gasket. This provides for easier maintenance, with protection against overtightening as well as creeping, while simultaneously ensuring safe operation with no risk of media leaks at pressures up to 60 bar.
Why switch from traditional heat exchangers?
What makes Compabloc+ different?
How does Alfa Laval make service simple?
Hydrotreating and hydrodesulphurization
A growing number of refineries have turned to naphtha hydrodesulphurization units in order to meet changing sulphur regulations for motor fuels. Traditionally, shell-and-tube heat exchangers have been used to recover heat in this energy-intensive process.
Complete Compabloc range
Compabloc offers 3-5 times the thermal efficiency of traditional shell-and-tube solutions, with a more compact design that is much easier to install and service. Laser-welded construction offers superior reliability in duties with aggressive media and high pressures and temperatures.
Service for Alfa Laval Compabloc
Check out our many service offerings as well as useful tips on how to keep your Compabloc+ in tip top condition.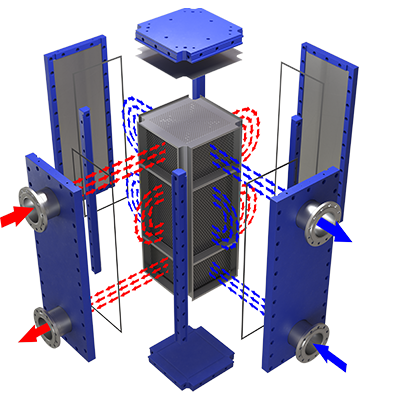 Sitting at the core of every Compabloc is a stack of corrugated heat-transfer plates made of stainless steel or other corrosion-resistant materials, laser welded alternately to form channels.
The hot and the cold streams flow through alternate channels. Corrugated plates cause high turbulence, resulting in substantially higher heat transfer efficiency with a 50–80% smaller heat transfer area than comparable shell-and-tubes. Flow turbulence also reduces the build-up of fouling. The Compabloc's unique plate design eliminates dead zones in the heat exchanger.
The two flows in a Compabloc can be configured as single pass, or as multiple pass by using baffles. The number of passes on the hot and cold side can be chosen independently, making it possible to optimize heat transfer even if flow rates on the different sides differ greatly. This unique flexibility means the Compabloc is always optimized for exactly the required duty. The baffles are made to withstand full vacuum, and can be rearranged if design conditions are changed in the future.
Compabloc units have a counter-current flow and can operate with a crossing temperature program (in a single unit), where the temperature approach is as close as 3°C (5.4°F), maximizing energy recovery. The small size and light weight makes it possible to install Compablocs anywhere, for instance at the top of distillation columns or suspended from support structures.
Compabloc - 1-pass condenser
Compabloc - 2-pass condenser
Compabloc liquid-to-liquid