Motor og transport
Alfa Laval's advanced heat transfer, filtration and separation products and solutions ensure engines perform efficiently, with the lowest life-cycle costs and minimal impact on the environment. Alfa Laval's ability to integrate these technologies into your engine, either, individually or in combination with each other, results in high levels of compactness and low weight.
Relaterte bruksområder
Relaterte produkter
Related services
Alle
Automatiske tilbakeslagsfiltre
Ferskvannsløsninger
Luftvarmevekslere med ribbecoil
Maritime eksosløsninger
Miljøvernløsninger
Platevarmevekslere
Sentrifugalseparatorer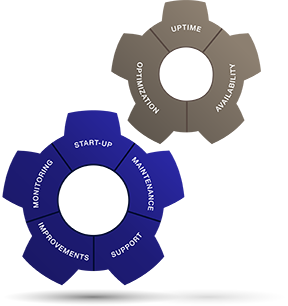 Vårt globale servicenettverk har dedikerte spesialister som kan mye om din bransje. Vi er her for å støtte deg med deler og ekspertise, uansett hvor og når du måtte trenge det.
Alfa Laval 360° serviceportefølje dekker alle dine behov gjennom hele levetiden til utstyret – fra oppstart, vedlikehold, support og forbedringer til overvåkingstjenester – for maksimal oppetid, tilgjengelighet og optimalisering.
Ved å redusere de totale eierkostnadene hjelper vi deg med å ligge et hestehode foran konkurrentene.
Finn ut mer om vårt servicetilbud
---
We supply these technologies to engine manufacturers working in many markets around the world, to help provide reliable, high performing diesel and gas engines to their mining, railway, marine, power generation and industrial customers.
We offer a broader array of products and application expertise for cooling, filtration and crankcase gas cleaning of diesel and gas engines.
Our products increase your engine's performance by:
Extending engine lifetime
Extending oil lifetime
Eliminating filter cartridge disposal
Improving cooling efficiency
Reducing unnecessary engine loading
Reducing crankcase emissions
Be om et tilbud på Motor og transport